…der Liebe / …Love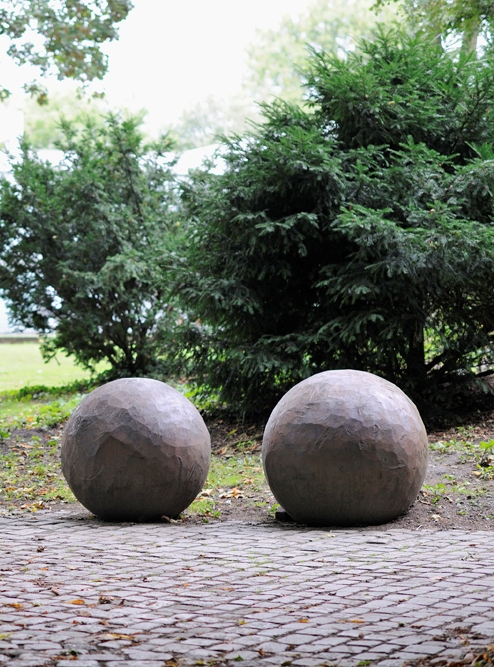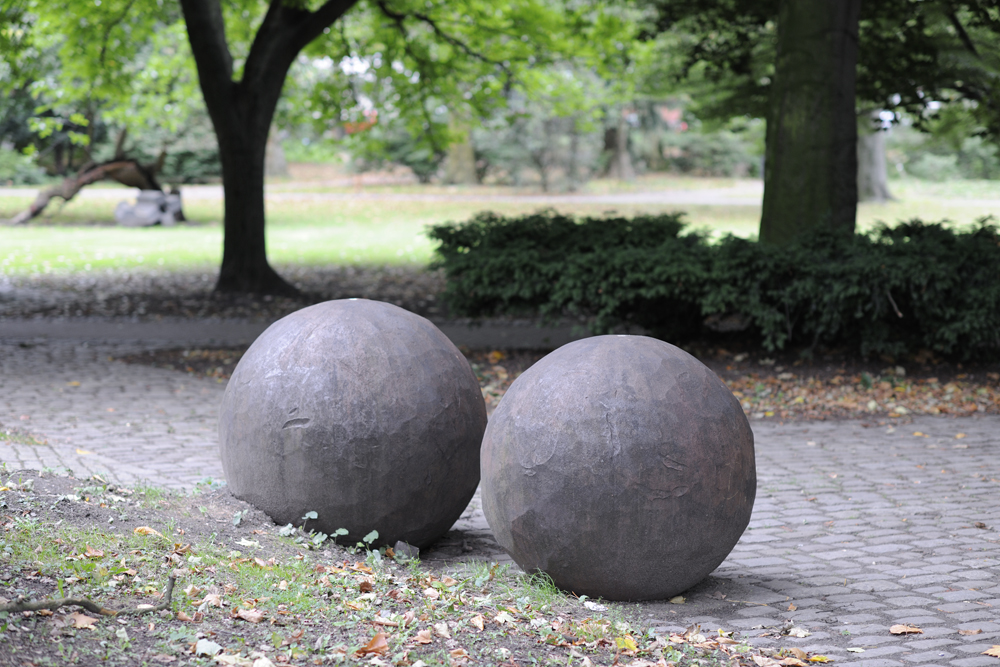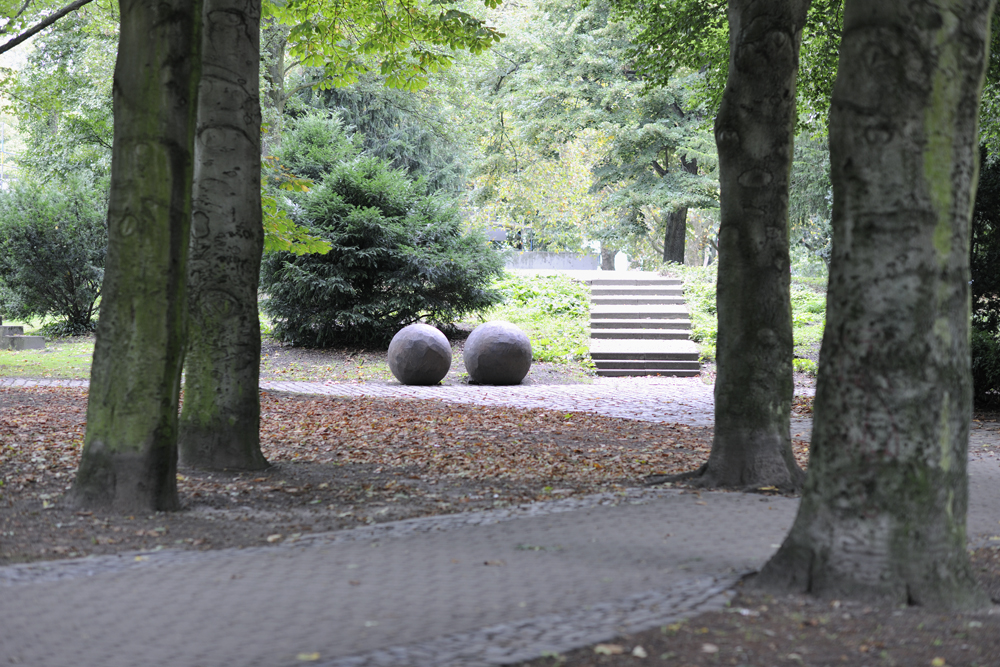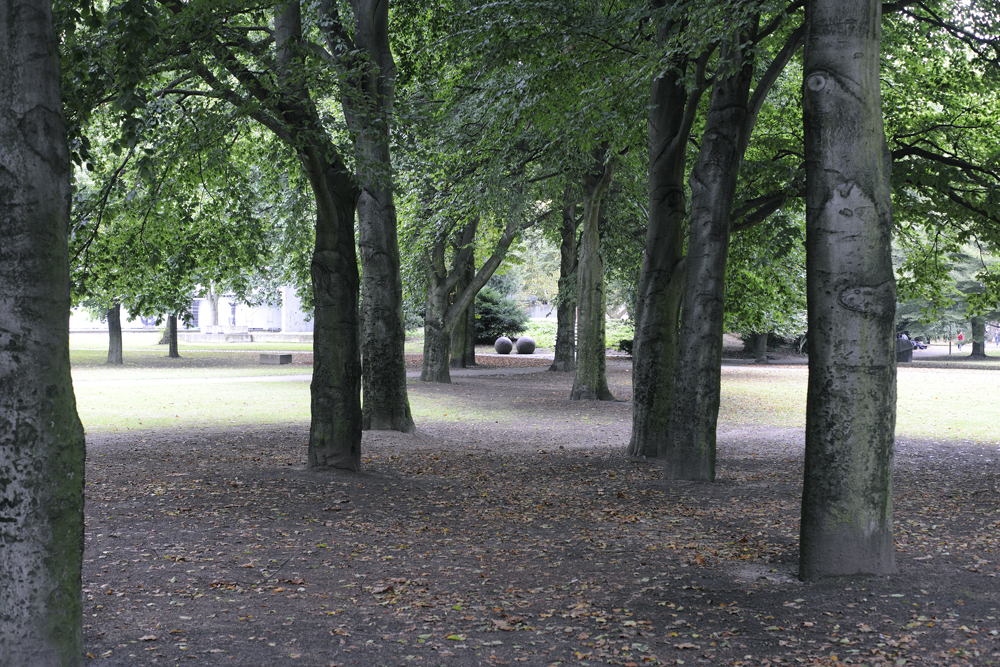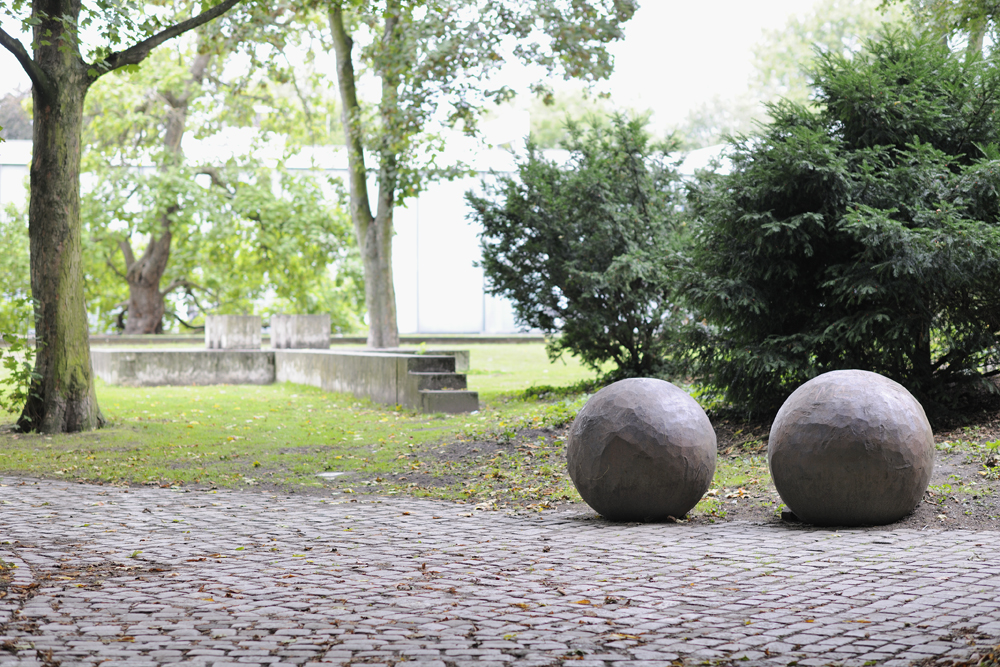 In 2003/2004, sculptor Ansgar Nierhoff presented his work in the exhibition … Love at the Wilhelm Lehmbruck-Museum. The show featured 18 large-format sculptures and 12 drawings. One work, two steel balls bearing the same name as the exhibition, can still be found in Kant Park today.
The two adjacent spheres, which only vary slightly in diameter, illustrate the sense of dialogue that can be found in many of this sculptor's works. Like love itself, a profound tension forms between the steel structures. This tension fills the surrounding space, establishing an intense relationship with the setting.
Further reading:
Exhibition Catalog, Ansgar Nierhoff …der Liebe. Ed. Christoph Brockhaus. Stiftung Wilhelm Lehmbruck Museum – Zentrum Internationaler Skulptur, Duisburg (30.11.2003–1.2.2004). Cologne: Wienand, 2003, pp. 12–15.
Justus Jonas (Ed.): Ansgar Nierhoff. Zu einem Aus einem. Skulptur im öffentlichen Raum. Heidelberg: Kehrer Verlag, 2006, No. 60, Fig. 254.
---
Ansgar Nierhoff
1941
geboren in Meschede; gestorben 2010 in Köln.
1960
Gesellenbrief als Maurer.
1964
Allgemeine Hochschulreife an der Frankenberger Edertalschule.
1964–1969
Kunststudium an der Kunstakademie Düsseldorf. Meisterschüler von Norbert Kricke. Zu seinen weiteren Lehrern gehörten Joseph Fassbender und der Kunsthistoriker Eduard Trier.
1977
Teilnahme an der documenta 6 in Kassel.
1983
Zeitweise Arbeit als Assistent von George Rickey in dessen New Yorker Atelier.
1986
Gastprofessor an der Gesamthochschule Kassel.
1988–2008
Professor an der Akademie für Bildende Künste der Johannes Gutenberg-Universität Mainz in Mainz.
Ansgar Nierhoff gilt in der Kunstgeschichte als Pionier der Edelstahlplastik.
Images:
Photos © Carsten Gliese
---
← Zur Startseite
Location
Duisburg
Duisburg, Lehmbruck Museum/Kant-Park, Friedrich-Wilhelm-Straße 40
Size
Diameter 112cm/121.5 cm