Paarweise / Paired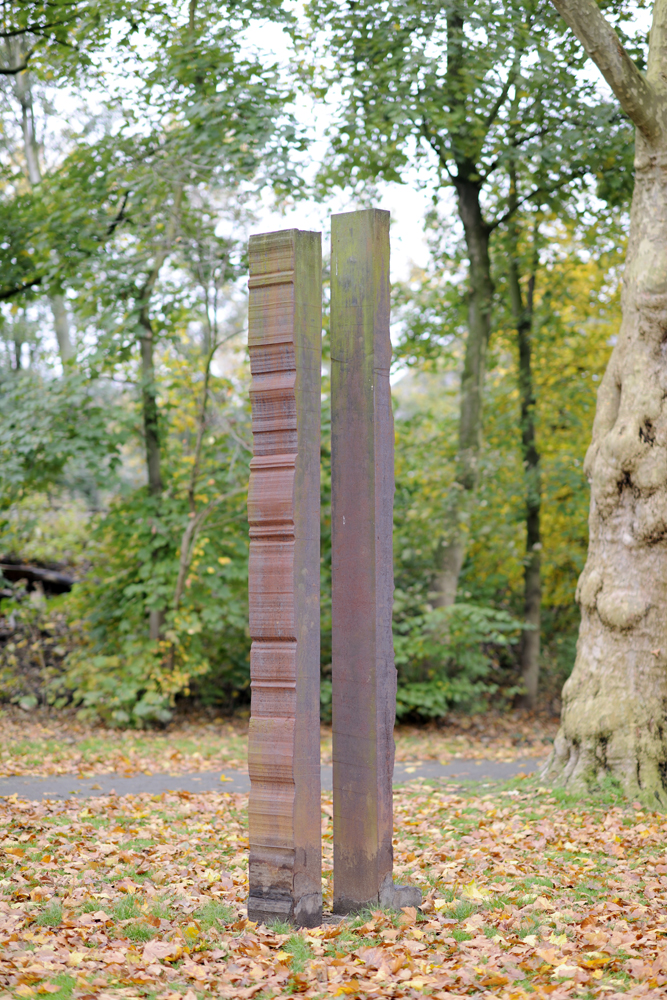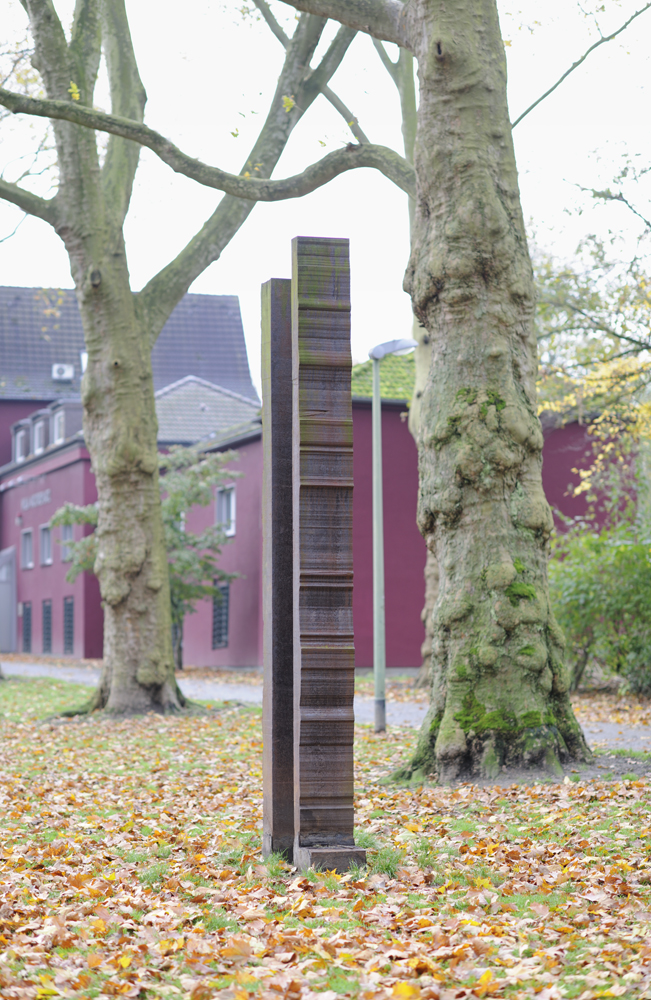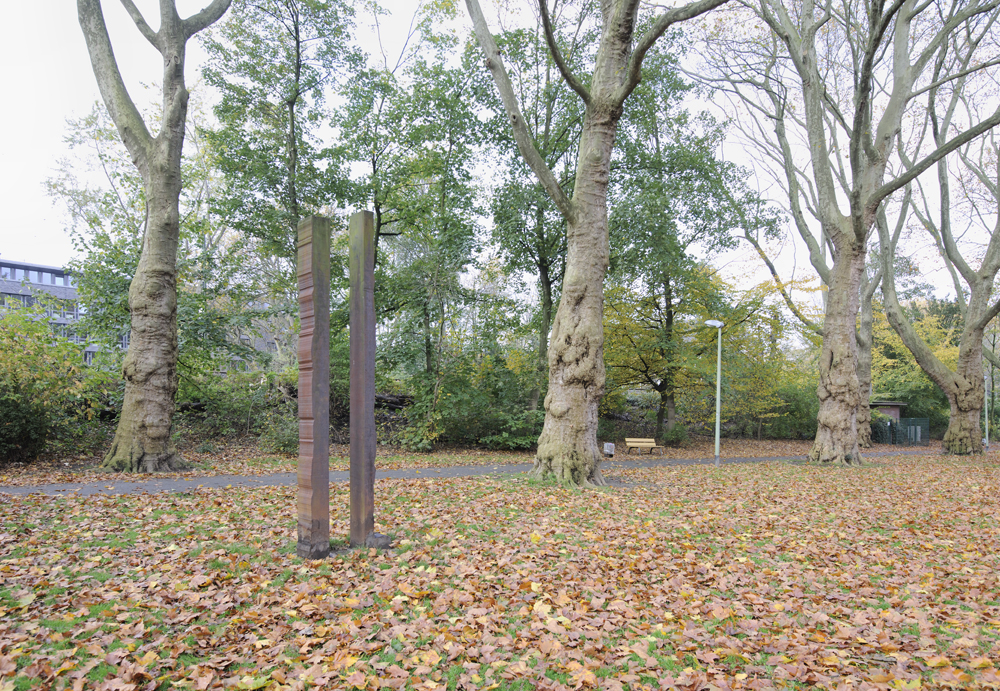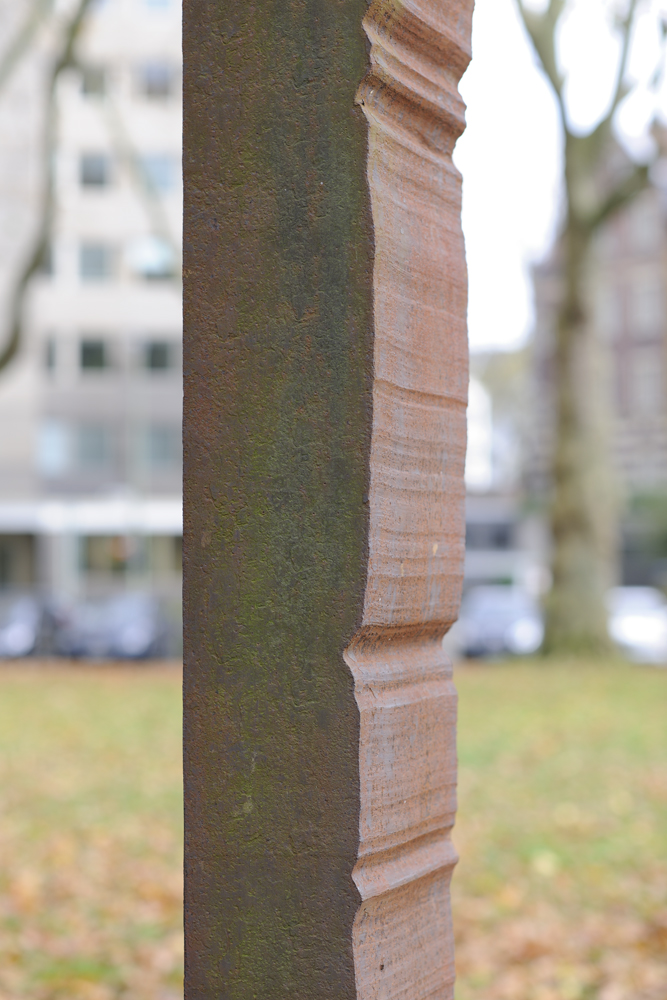 The charm of Ansgar Nierhoff's two-part sculpture lies in the contrast between the seemingly simple, minimalist design and the resulting complexity of the work.
A tall rectangular steel pillar was split in two with a flame cut, creating an irregular wave pattern along the surface. However, the steel was not split all the way down and the cut ended at a right angle across the steel beam.
The two resulting parts were positioned "back to back" with some distance between them. The smooth surfaces of the stelae face each other, while the wavy surfaces now form the outer sides.
Additionally, because of how it was cut at a right angle near the base, one of the stelae is taller than the other. The similarities between the two elements are immediately striking. The interlocking positive and negative forms can be visualized together as a whole. Reminiscent of a human couple, both forms stand alone while forming a closed unit.
This sculpture is part of the ensemble of works that have been exhibited at Moltkeplatz since 1981 on the initiative of gallery owner Jochen Krüper in Essen and Uwe Rüth, former director of the Skulpturenmuseum Glaskasten and the art collection in Marl. Local residents supported the project and the association Kunst am Moltkeplatz (KaM) dedicated itself to the maintenance and upkeep of the sculptures. Since 2010, the public art space and neighborhood initiative have been supplemented by the project Junge Kunst am Moltkeplatz, which promotes different approaches to young art.
---
Ansgar Nierhoff
1941
geboren in Meschede; gestorben 2010 in Köln.
1960
Gesellenbrief als Maurer.
1964
Allgemeine Hochschulreife an der Frankenberger Edertalschule.
1964–1969
Kunststudium an der Kunstakademie Düsseldorf. Meisterschüler von Norbert Kricke. Zu seinen weiteren Lehrern gehörten Joseph Fassbender und der Kunsthistoriker Eduard Trier.
1977
Teilnahme an der documenta 6 in Kassel.
1983
Zeitweise Arbeit als Assistent von George Rickey in dessen New Yorker Atelier.
1986
Gastprofessor an der Gesamthochschule Kassel.
1988–2008
Professor an der Akademie für Bildende Künste der Johannes Gutenberg-Universität Mainz in Mainz.
Ansgar Nierhoff gilt in der Kunstgeschichte als Pionier der Edelstahlplastik.
Images:
Photos © Carsten Gliese
---
← Zur Startseite
Location
Essen
Essen, Moltkeplatz
Material
Forged steel, flame cut