Colossal Ashtray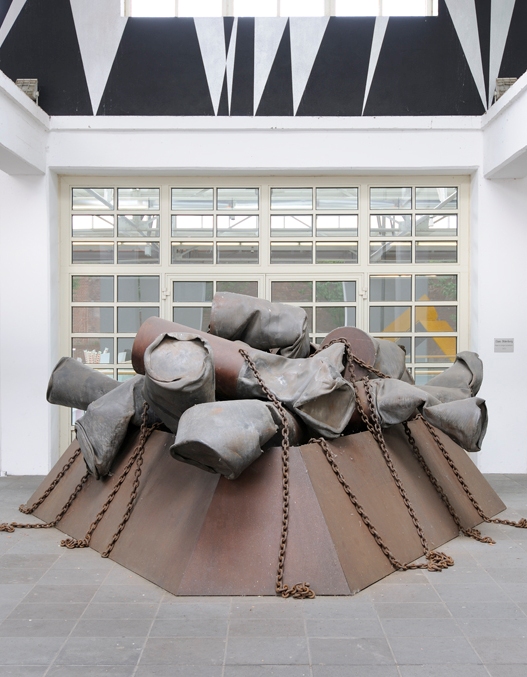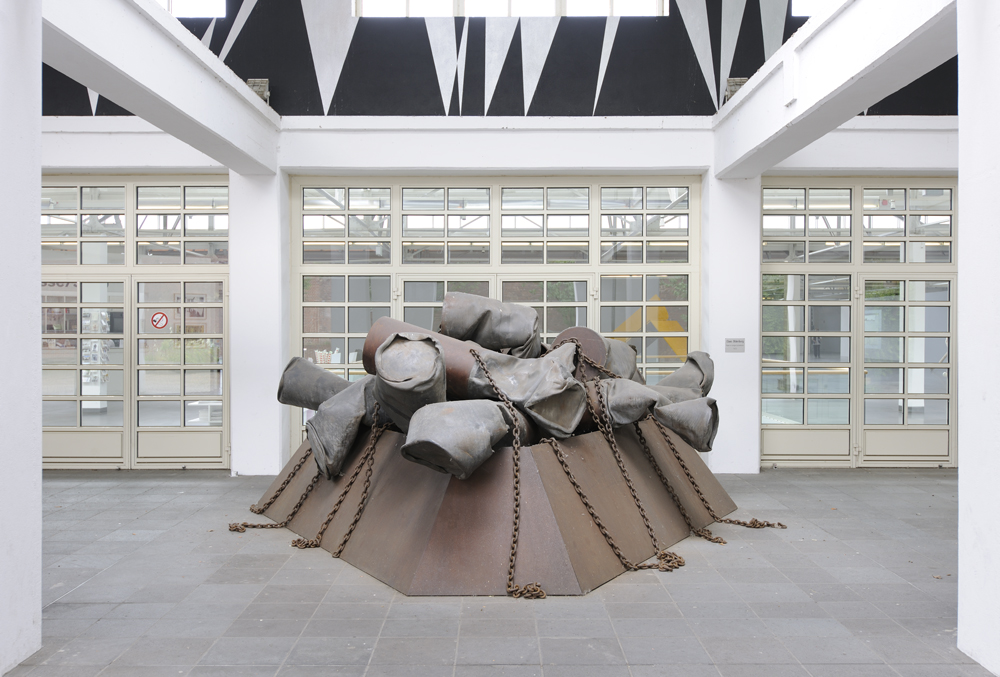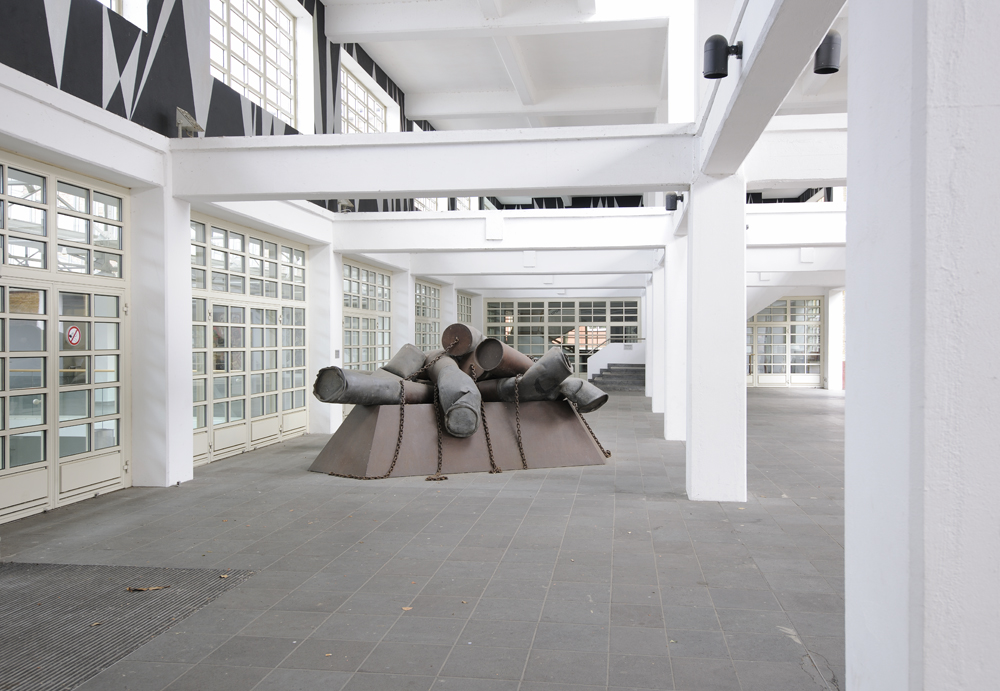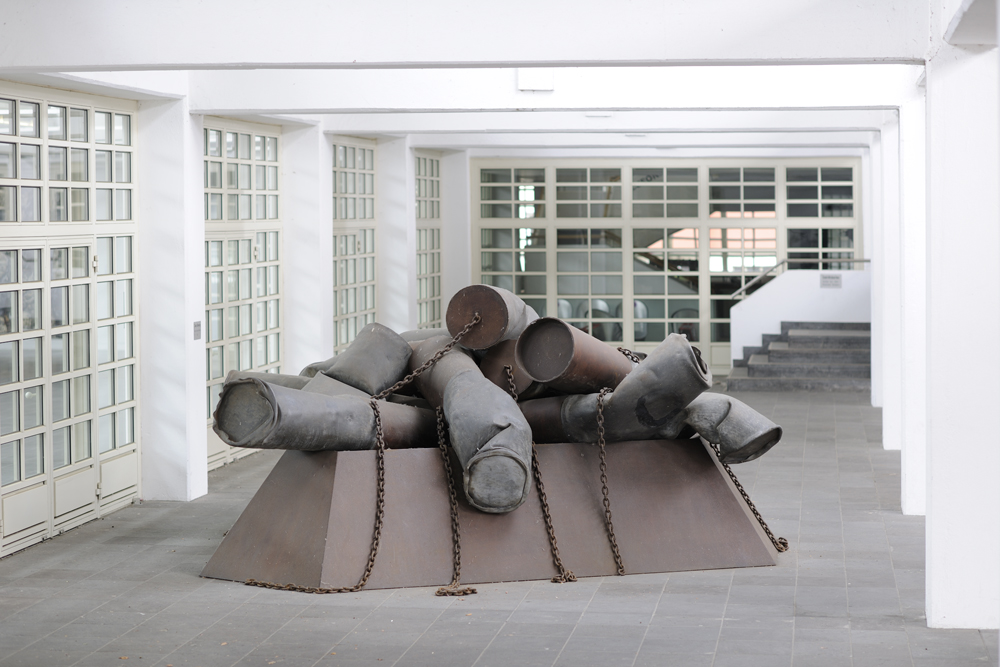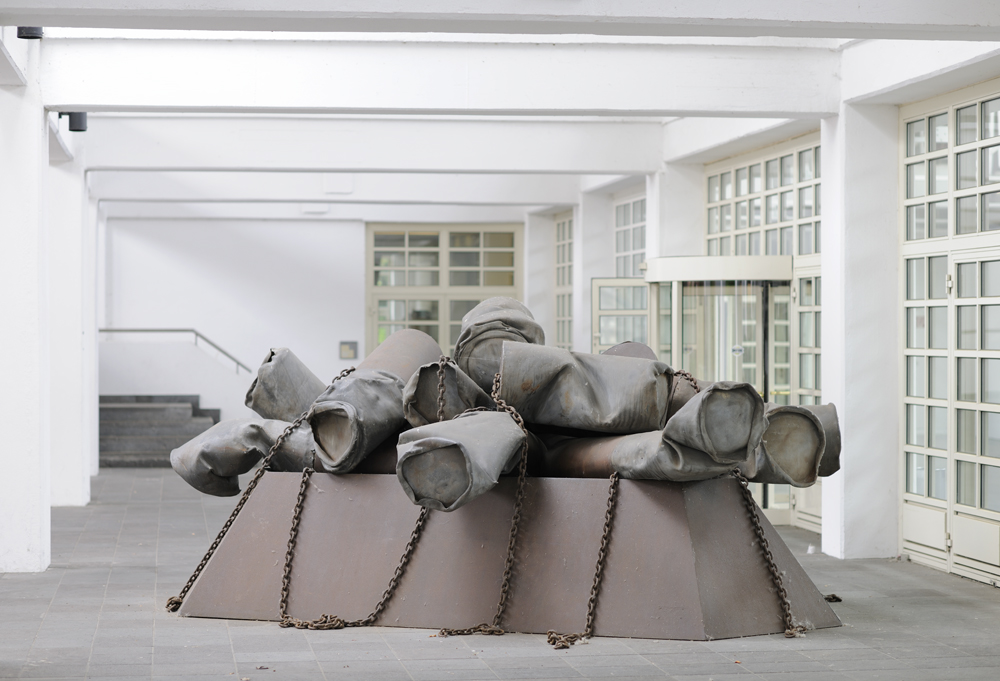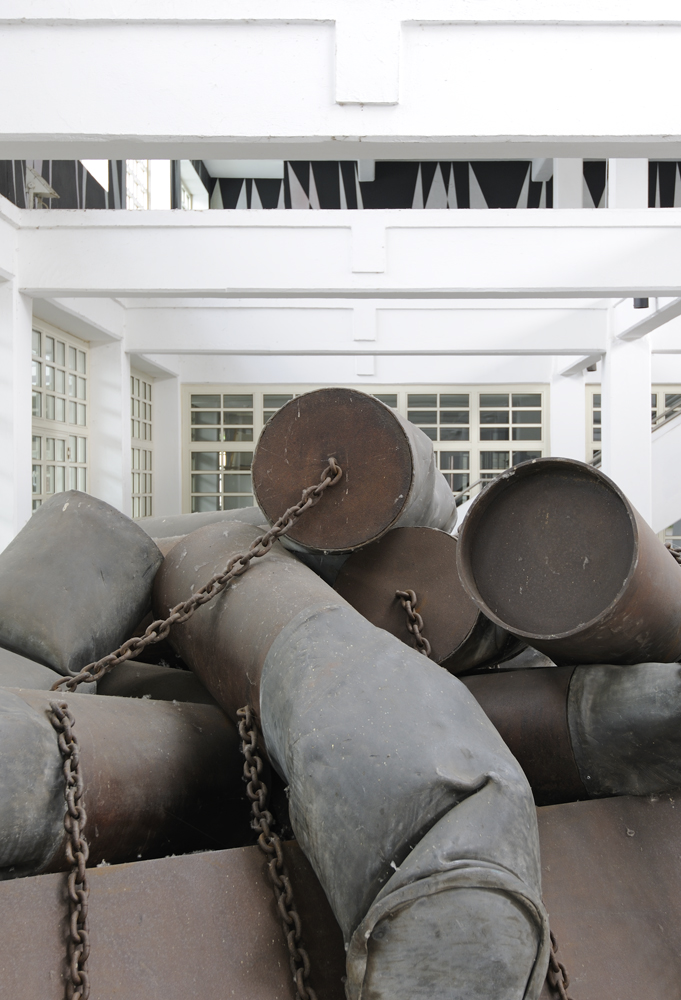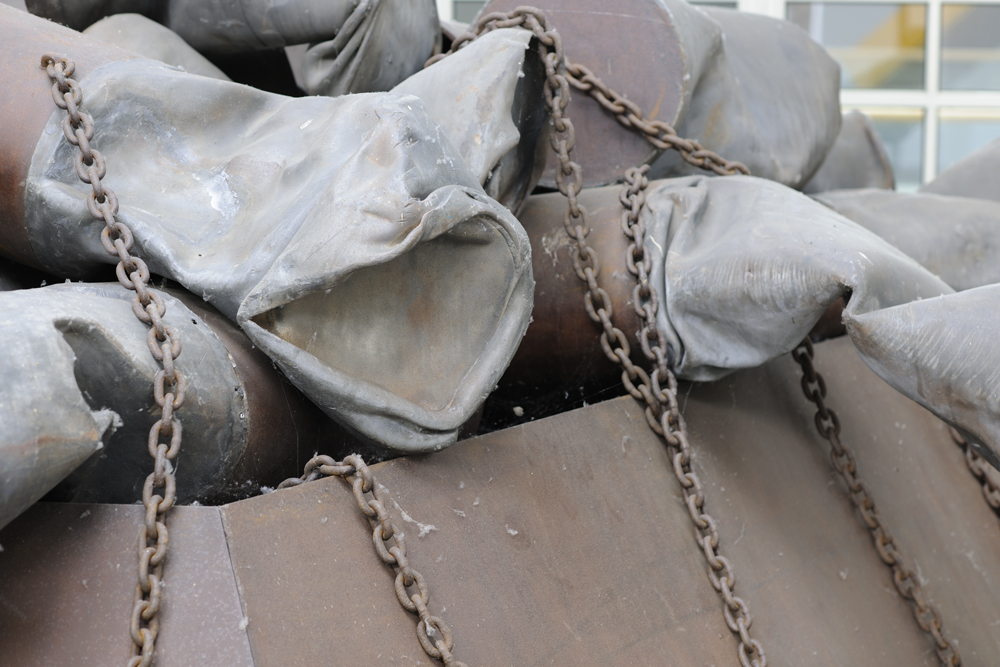 Claes Oldenburg had already realized his idea to make an ashtray with stubbed out cigarettes in 1967, starting out with a soft fabric version. He had previously worked with the variable cylindrical shape of the stubbed out cigarette; with this work, the classic triangular Martini ashtray was added as a solid base.
The Colossal Ashtray from 1975 combines Oldenburg's method of making every day objects seem foreign through monumental enlargement with a change in color. Because of the almost monochrome iron and lead coloring, the sculpture is reminiscent of a military object at first glance – perhaps an armored vehicle with gun barrels. In order to prevent any unauthorized disassembly of the sculpture in the public space, the cigarette butts are secured with thick chains, reinforcing its military quality.
Compared to the pop-artist's more colorful works, this sculpture stands out for its high level of abstraction and somewhat drab appearance. This could be understood as a commentary on the roll of art.
Additional information: www.nrw-museum.de/#/colossal-ashtray-528.html
---
Claes Oldenburg
1929
geboren in Stockholm/Schweden; lebt in New York.
1930–1933
wuchs er in New York und in Rye, New York, und seit 1936 in Oslo auf.
1936–1946
lebte er in Chicago, wo er seinen Abschluss an der Latin School of Chicago machte.
1946–1950
Studium an der Yale Universität (Kunst und englische Literatur).
Bis 1954
Kurs am Art Institute in Chicago. Während seiner Studienzeit arbeitete er als Journalist und Grafiker.
1953
erste Ausstellung mit Satirischen Zeichnungen.
1956
Umzug nach New York City, dort Bekanntschaft mit Happening-Künstlern wie Allan Kaprow, Jim Dine, Red Grooms, Lucas Samaras und George Segal, die seine Begeisterung für Collagen und Objekte beeinflussten.
Ab 1958
fertigte Oldenburg Assemblagen aus Pappmaché und diversen Abfallprodukten an.
1958–1959
entstanden Zeichnungen und die ersten Plastiken.
1963
entstanden die ersten Soft-Sculptures und Vinly-Plastiken.
1964
Teilnahme an der 32. Biennale in Venedig.
Ab 1965
konzentrierte sich Claes Oldenburg darauf, Alltagsgegenstände durch monumentale Vergrößerung zu verfremden.
1968
Teilnahme an der documenta 4 in Kassel.
1969
Große Retrospektive im Museum of Modern Art, New York.
1970
Retrospektiven in Amsterdam, Düsseldorf und London.
1972
Teilnahme an der documenta 5 in Kassel.
1977
Teilnahme an der documenta 6 in Kassel.
1982
Teilnahme an der documenta 7 in Kassel.
Images:
Photos © Carsten Gliese
---
← Zur Startseite
Location
Aachen
Aachen, courtyard/loggia of the Ludwig Forum für Internationale Kunst, Jülicher Straße 97-109
Size
198.12 x 441.9 x 396.2 cm
Material
Lead, steel, polyurethane