Eine enorme Anstrengung / A Tremendous Effort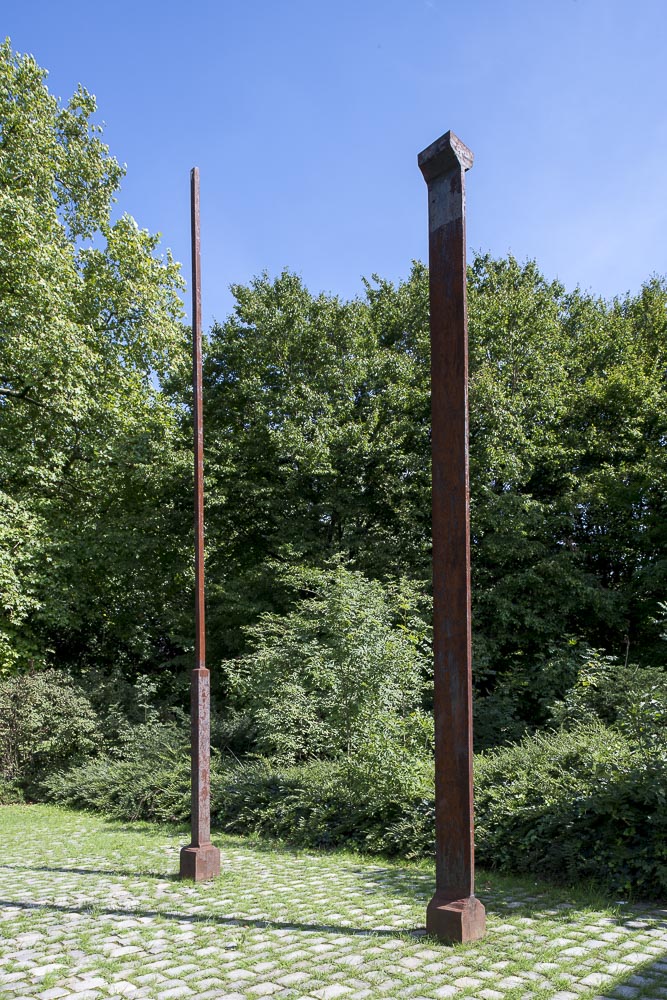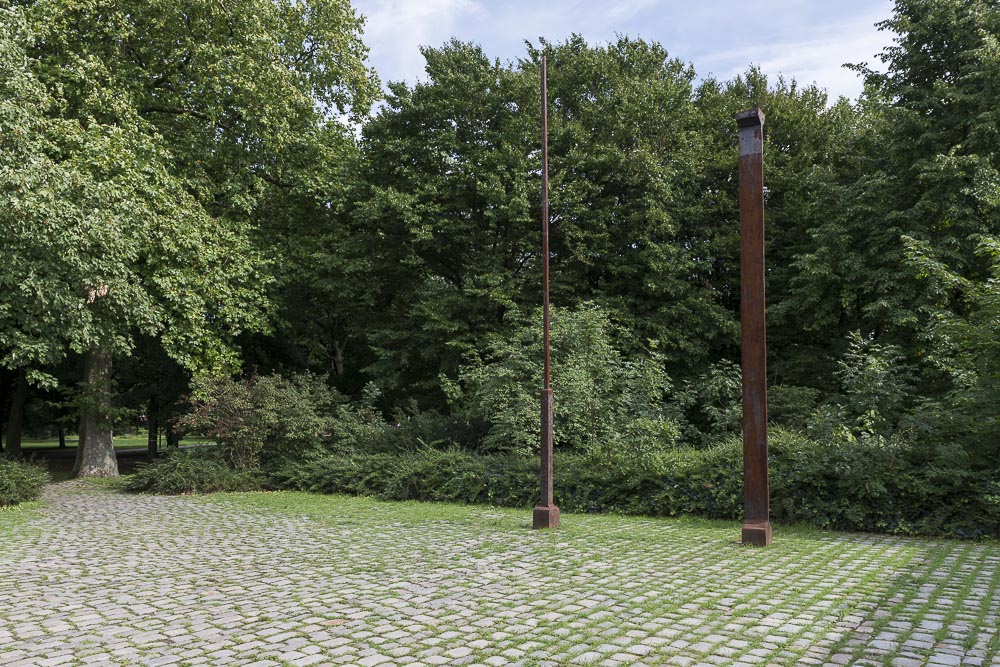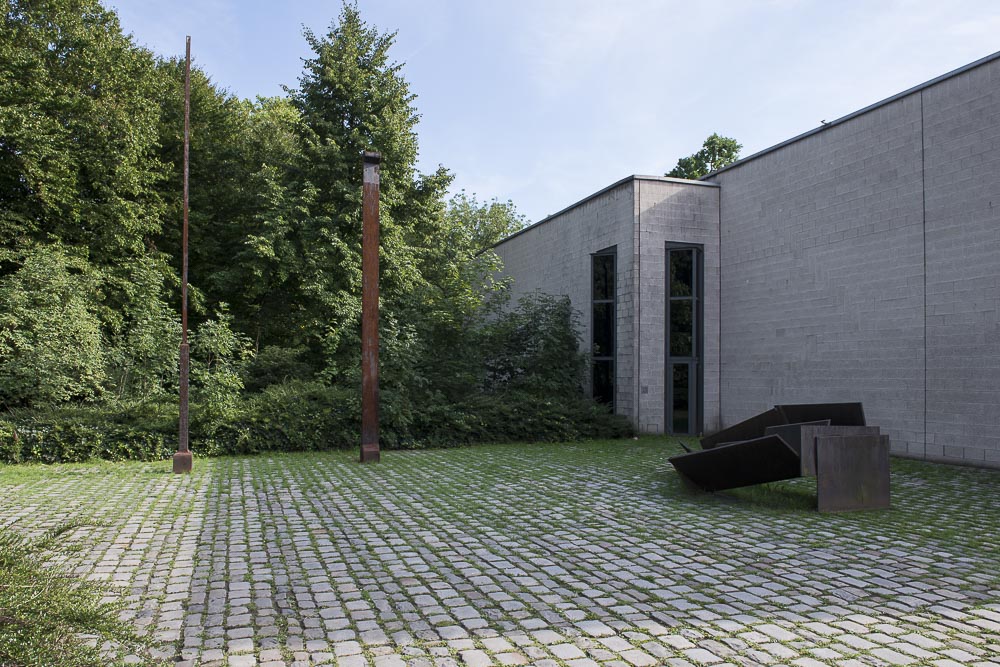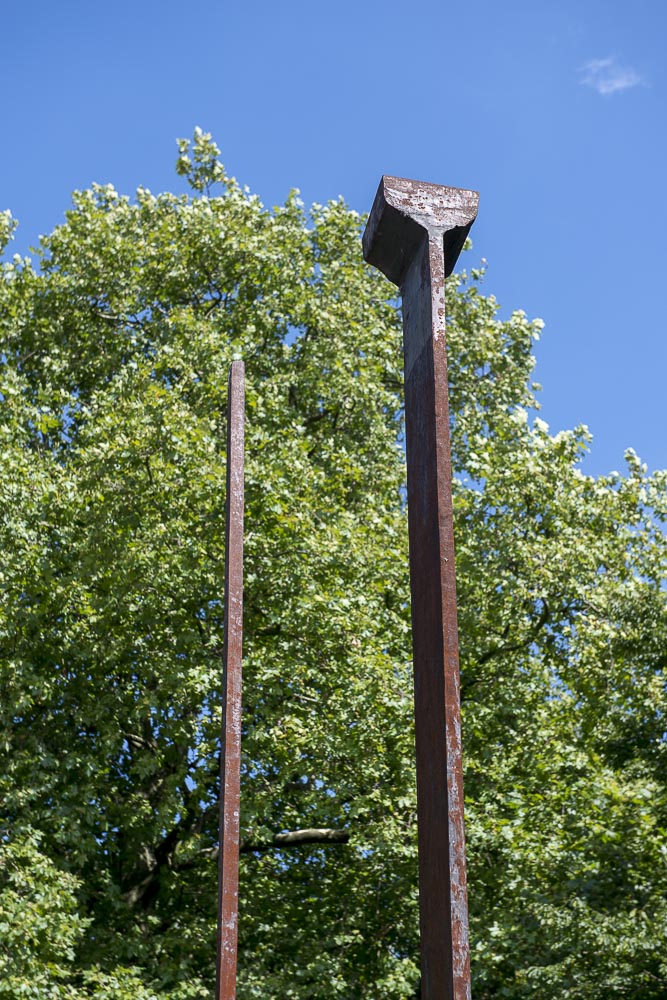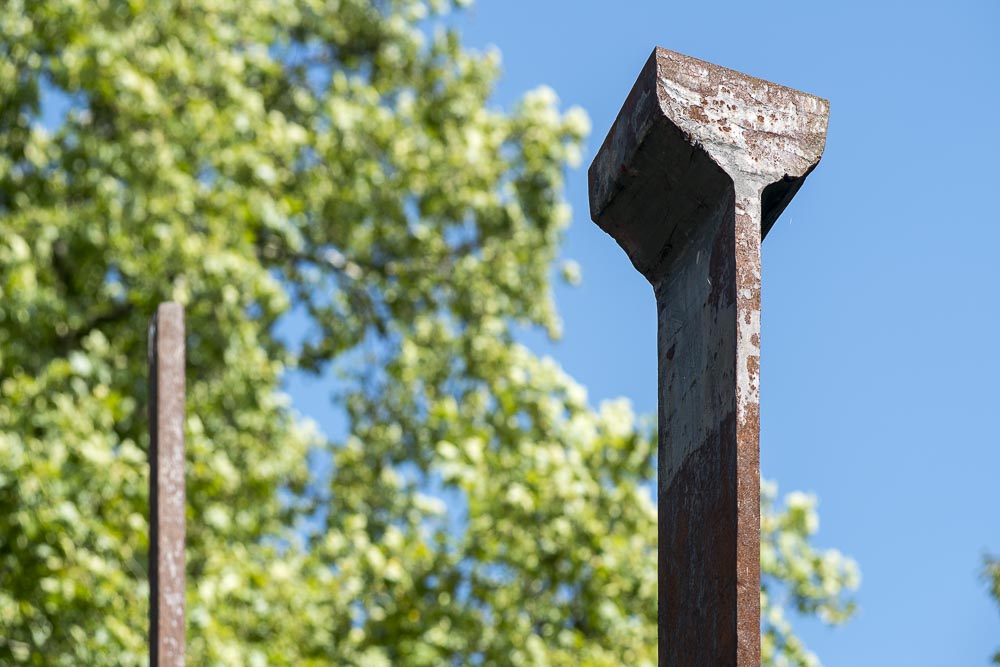 Ansgar Nierhoff's multi-part sculptural ensemble continuously communicates with its surroundings. The two "elongations" were specifically created for the site at the new building of the Wilhelm Lehmbruck Museum. They reach beyond their immediate surroundings, making reference to the smoke stacks at the public works building in the background. The sculpture is made up of two identical steel blocks that were elongated and forged into two steel columns. Although they contain the same mass, the columns differ in height and design. The only indication that they began at the same starting point is the base, which is the same size and shape on both structures. One of the columns tapers upward in steps, ending in a thin, towering steel tip. The other is a continuous steel form with a capital at the top that mirrors the base. Both stand as autonomous variations of a form, while being in close contact with each other, the architecture, and their surroundings.
Further reading:
StadtKunstFührer: Skulpturen im Duisburger Stadtraum, ed. by the Stiftung Wilhelm Lehmbruck Museum, Duisburg 2012, pp. 48/49.
---
Ansgar Nierhoff
1941
geboren in Meschede; gestorben 2010 in Köln.
1960
Gesellenbrief als Maurer.
1964
Allgemeine Hochschulreife an der Frankenberger Edertalschule.
1964–1969
Kunststudium an der Kunstakademie Düsseldorf. Meisterschüler von Norbert Kricke. Zu seinen weiteren Lehrern gehörten Joseph Fassbender und der Kunsthistoriker Eduard Trier.
1977
Teilnahme an der documenta 6 in Kassel.
1983
Zeitweise Arbeit als Assistent von George Rickey in dessen New Yorker Atelier.
1986
Gastprofessor an der Gesamthochschule Kassel.
1988–2008
Professor an der Akademie für Bildende Künste der Johannes Gutenberg-Universität Mainz in Mainz.
Ansgar Nierhoff gilt in der Kunstgeschichte als Pionier der Edelstahlplastik.
Images:
Photos © Thorsten Arendt
---
← Zur Startseite
Location
Duisburg
Lehmbruck Museum, Skulpturen-Hof, Düsseldorfer Str. 51, 47051 Duisburg
Size
600 x 26 x 26 cm; 450 x 26 x 26 cm
Material
Two identical corten steel blocks