Lifesaver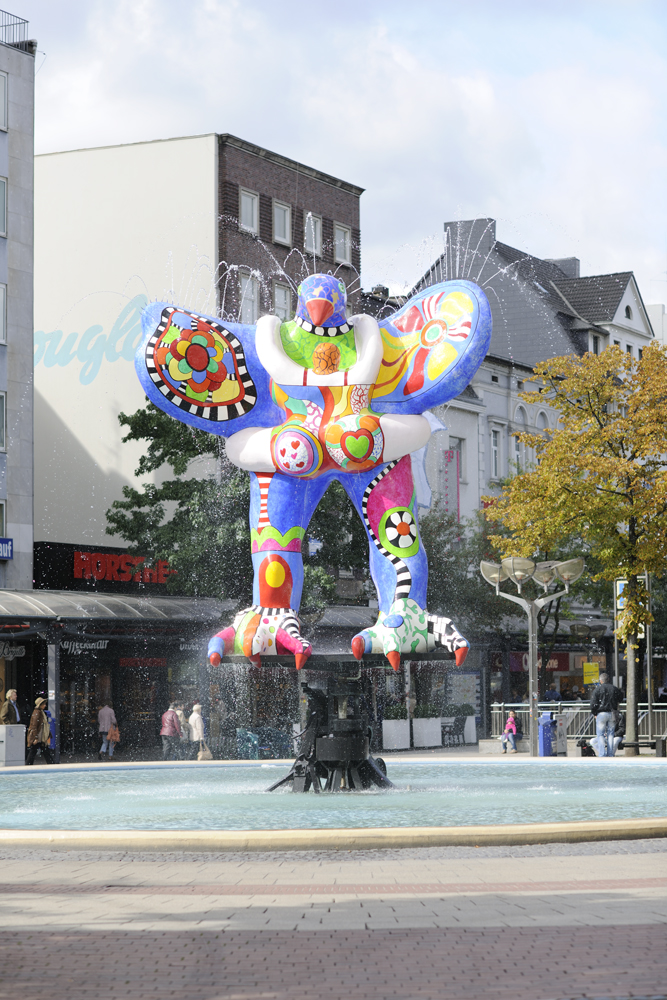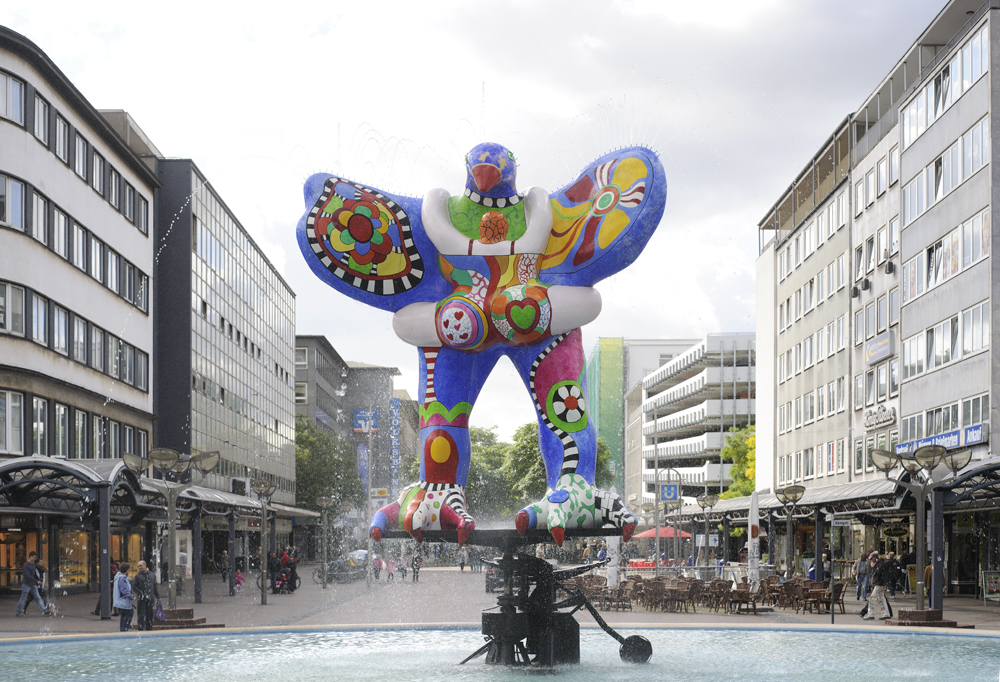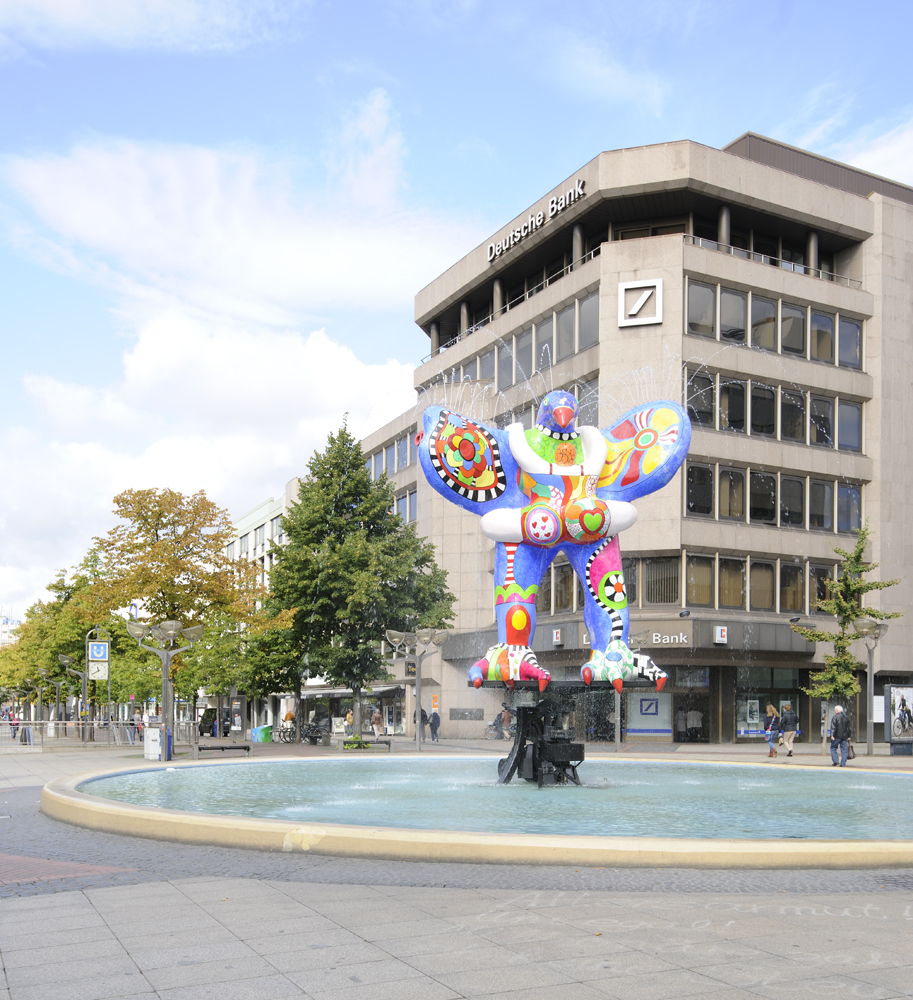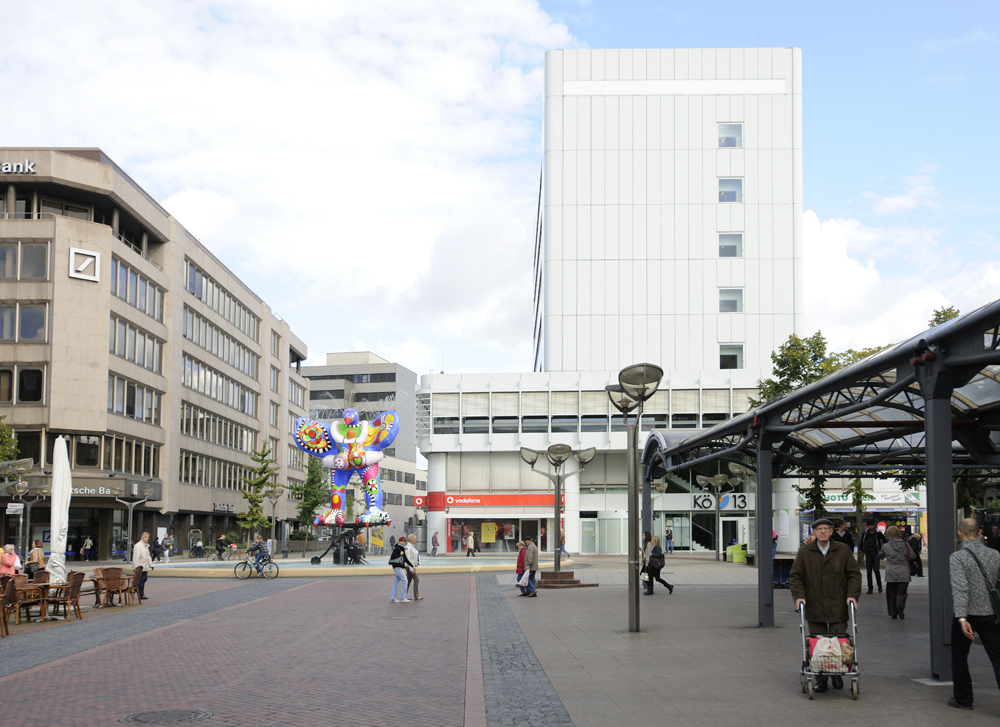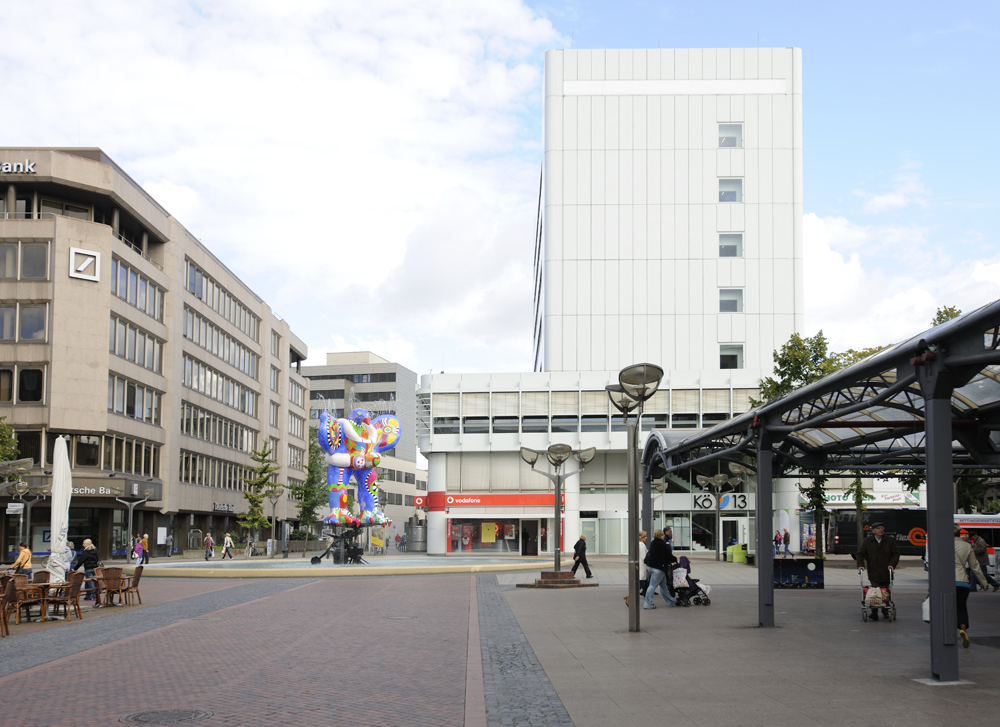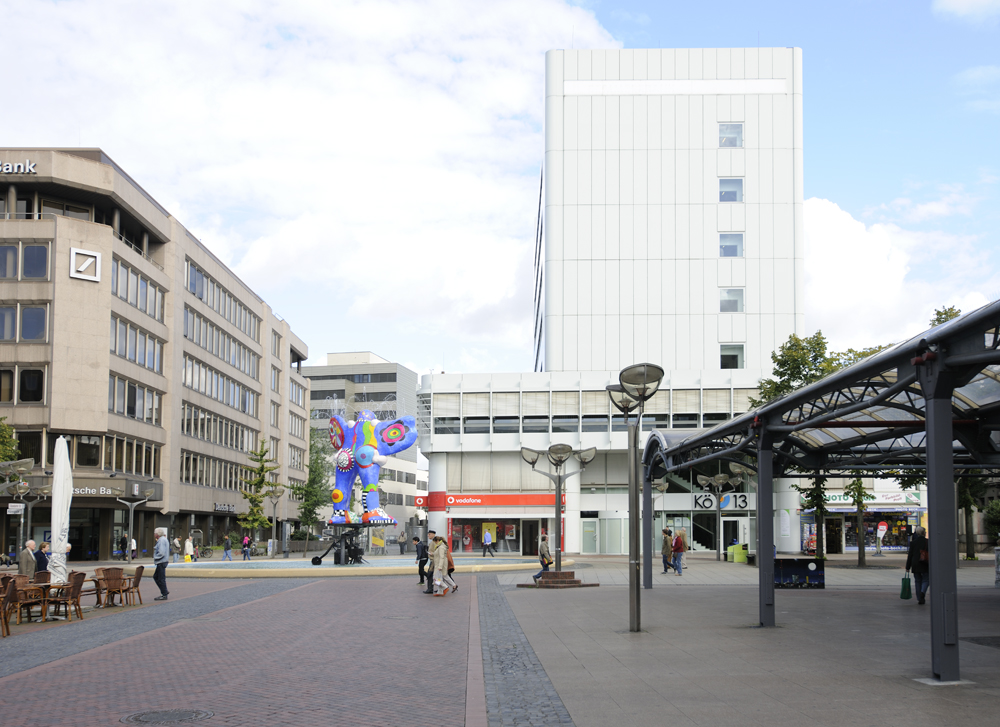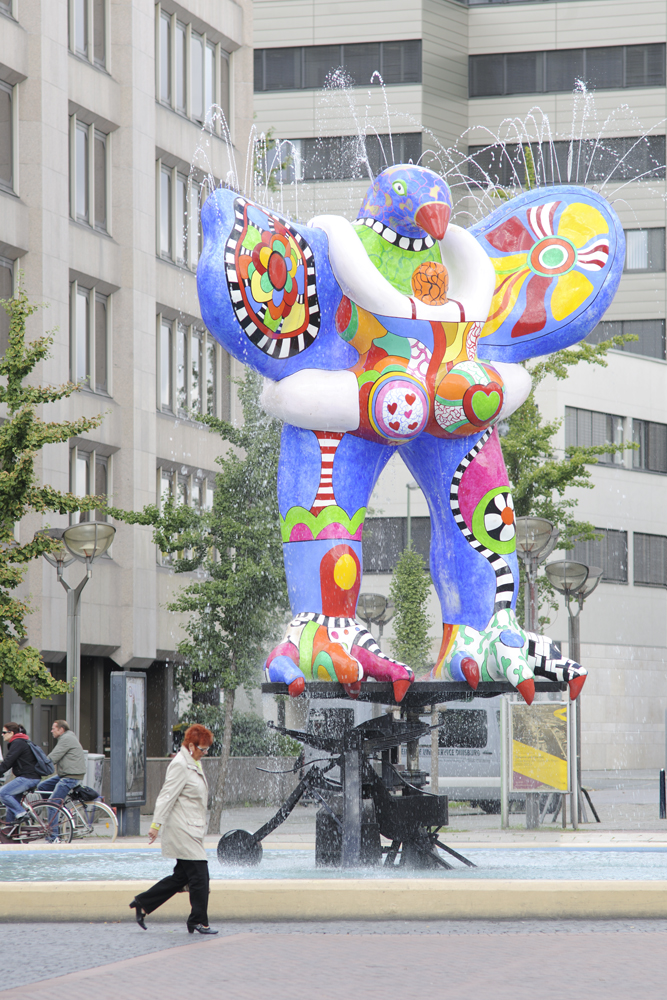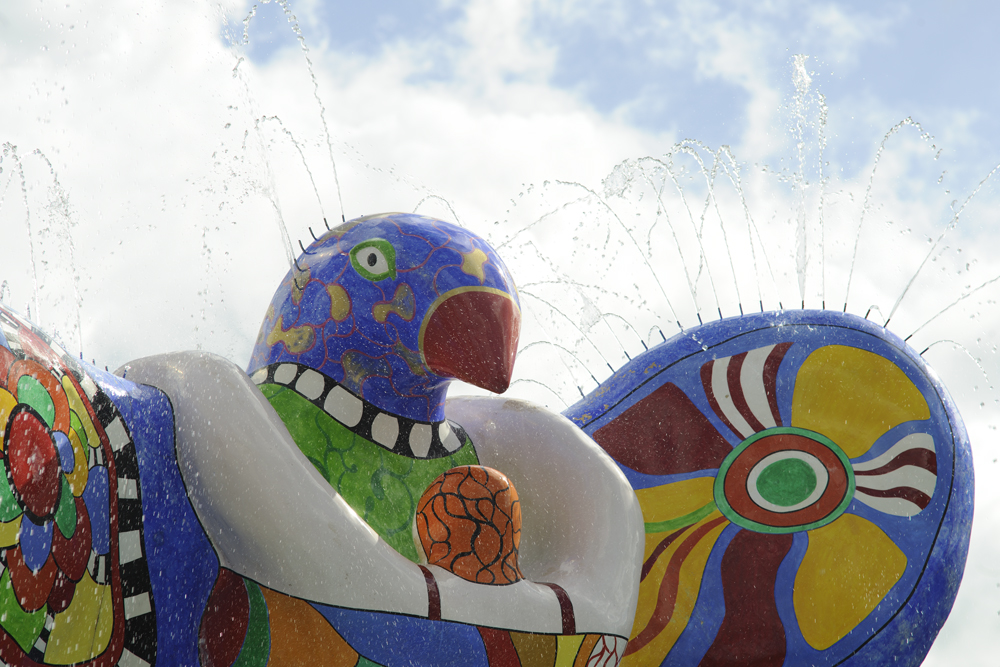 Artist couple Niki de Saint Phalle and Jean Tinguely's Lifesaver dominates the Duisburger Brunnenmeile, a sculpture path in the city center. The path was built based on an idea from Braunschweig architect Hartmut Rüdiger and was completed in 1993 with fountains by the artists Alt, Werthmann, Hegewald, Saint Phalle/Tinguely, Virnich, and Marjanov. It runs along the Königstraße pedestrian zone.
Much like the world famous Stravinsky Fountain in front of the Pompidou Center in Paris, Lifesaver is a collaborative effort between both artists. Jean Tinguely created the moveable pedestal structure out of various pieces of scrap metal. In terms of form and color, the rotating base contrasts the massive polyester figure on top of it, which is vividly painted in the typical style of Niki de Saint Phalle's Nanas.
The figure depicts a bird-creature with outspread wings that spray arching streams of water. A female figure clings to the body of the mythical creature. The fantastical bird is portrayed here as a majestic lifesaver with the ability to lift humanity above the purely mechanistic worldview of consumption and every day life.
---
Jean Tinguely
1925
geboren in Freiburg/Fribourg; 1991 gestorben in Bern.
1941–1944
Ausbildung als Dekorateur und Kurse an der Allgemeinen Gewerbeschule Basel. In dieser Zeit lernte er Daniel Spoerri kennen, mit dem er an einem Theaterprojekt arbeitete.
1951
Heirat mit Eva Aeppli.
1952
Umzug nach Paris, wo er Yves Klein und Niki de Saint Phalle kennenlernte.
1954
erste kinetische Skulpturen.
1955
erfand und baute Tinguely Zeichenautomaten, die auf Papierformaten und -bahnen maschinelle Zeichnungen anfertigen konnten.
1960
Gründungsmitglied der Künstlervereinigung der Nouveaux Réalistes. Im selben Jahr begann er Fundgegenstände in seinen Werken zu verarbeiten. Außerdem entstand eine gigantische Maschine im Garten des Museum of Modern Art, New York, die, aus Schrott zusammengesetzt, in der Lage war, sich selbst zu zerstören. Diese autodestruktive Kunst stand im Kontext von Gustav Metzgers "Manifest der autodestruktiven Kunst".
1964/1968/1977
Teilnahme an der Dokumenta in Kassel.
1971
Ehe mit Niki de Saint Phalle. Zahlreiche Projekte entstanden gemeinsam mit ihr wie auch mit dem Eisenplastiker Bernhard Luginbühl.
1976
Wilhelm-Lehmbruck-Preis der Stadt Duisburg.
1977
Erste Brunnenentwürfe.
1980
Kunstpreis der Stadt Basel.
1990
Tinguely-Ausstellung in der Tretjakow-Galerie, Moskau. In seinem letzten Lebensjahr schuf Tinguely die Gross-Hängeskulptur "La Cascade" in Charlotte (North Carolina) in den USA.
1996
Ein Großteil seiner Werke wird in dem nach ihm benannten Museum Tinguely in Basel ausgestellt.
Images:
Photos © Carsten Gliese
---
← Zur Startseite
Location
Duisburg
Duisburg, Königstraße, at Düsseldorfer Straße
Size
Height 5 m, width 5 m; base height 2 m
Material
Polyester, teflon coating