Tor und Doppelwinkel / Gate and Double Angle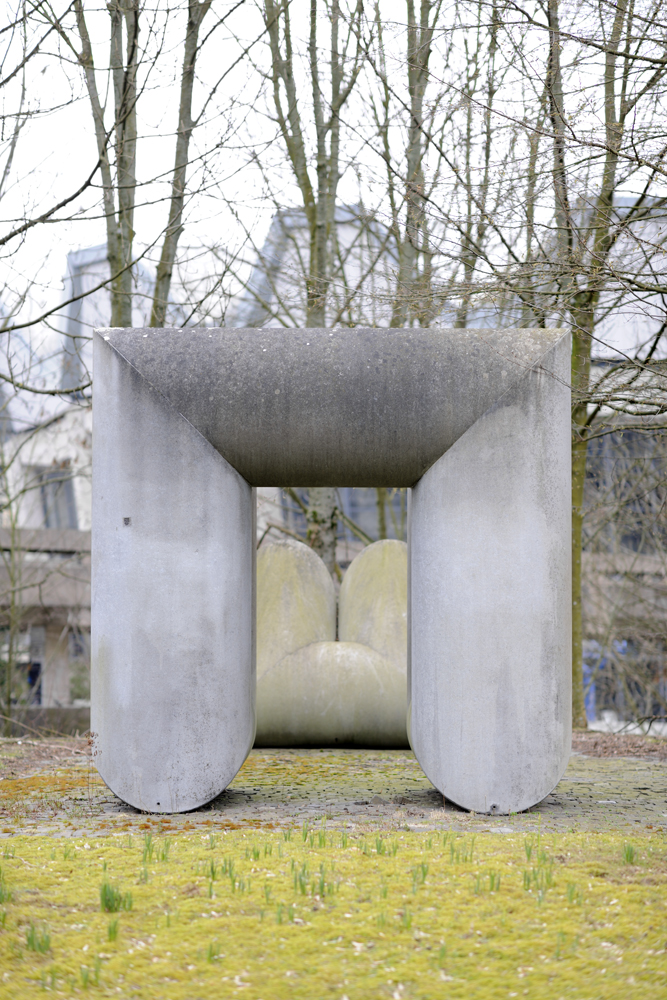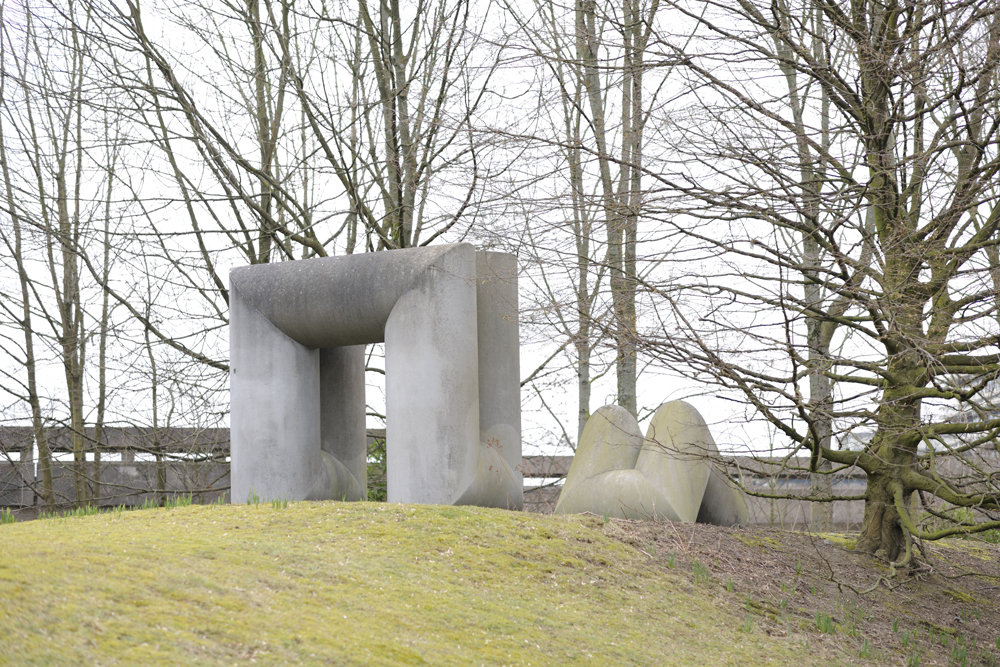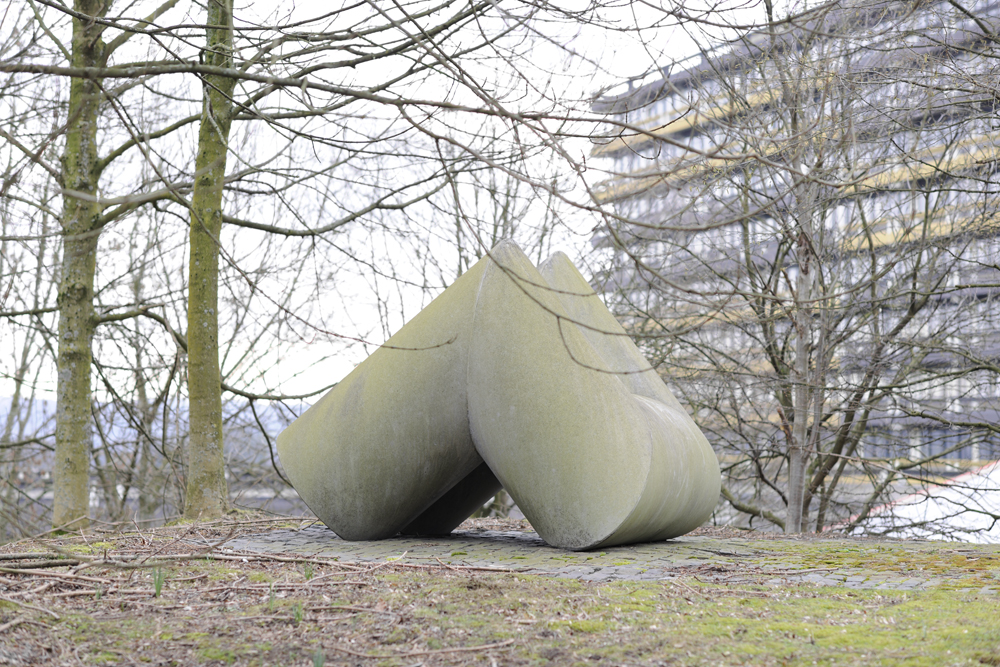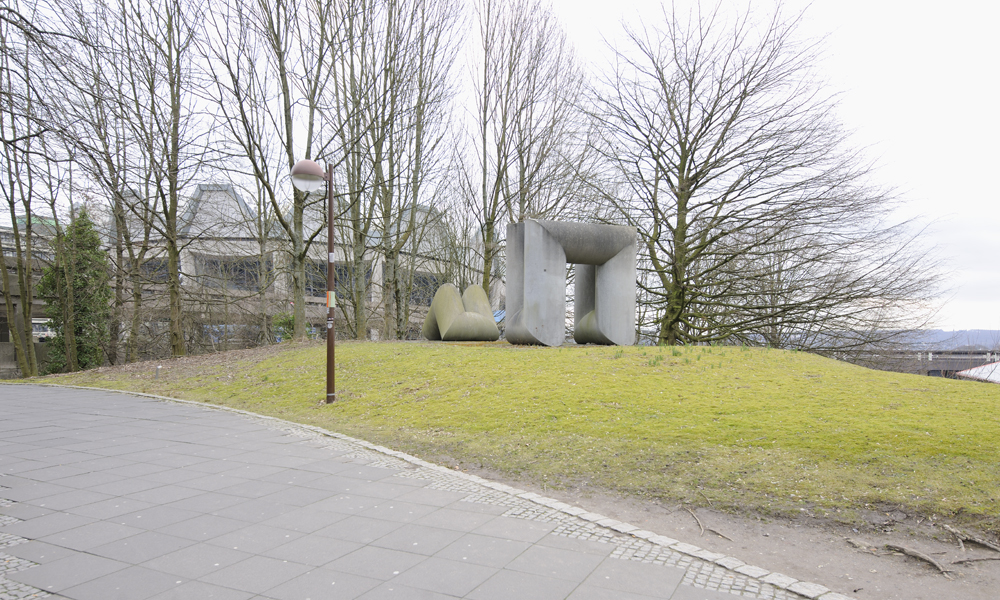 Friedrich Gräsel's Gate and Double Angle is located in an open space beside a footpath near the humanities buildings at Ruhr-Universität. Constructed out of Eternit tubes, the two sculptural elements are positioned atop a paved surface so that the open Gate provides a view of the Double Angle."
Formed out of industrially prefabricated materials, these autonomous sculptures create a relationship to each other and redefine their surroundings. Friedrich Gräsel's work was presented as West Germany's contribution to the 1972 Venice Biennale and then subsequently purchased for the Kunst am Bau ensemble at the Ruhr-Universität.
It was initially located south of the cafeteria, then was shown in Berlin in 1985 as part of the exhibition 1945–1985 Kunst in der Bundesrepublik, and then was finally installed in its current position.
Additional information: www.artibeau.de/1420.htm
---
Friedrich Gräsel
1927
geboren in Bochum; 2013 gestorben in Osnabrück.
1952–1956
Studium an den Hochschulen für Bildende Künste in München und Hamburg.
1964
Entwicklung von Steinzeug-Röhrenmontagen.
1965
Übergang zu Röhrenmontagen aus Faserzement (AC).
1967
Röhrenmontagen aus Kunststoff (PVC).
1970
erste Arbeiten in Stahl. Gräsel verlegte dazu sein Atelier in Industriebetriebe.
1972–1987
Professor für Bildhauerei und Experimentelles Gestalten an der Universität-GH Essen.
Friedrich Gräsel ist Ehrenmitglied des Westdeutschen Künstlerbundes und war bis 1997 Mitglied des Deutschen Künstlerbundes.
Das Werk Gräsels ist von einer geometrischen Formensprache sowie der Verwendung von Industriematerial gekennzeichnet. Es thematisiert damit die Industriekultur im Allgemeinen und den kulturellen Wandlungsprozess des Ruhrgebietes im Besonderen.
Seit 2001 besteht die Friedrich-Gräsel-Schenkung für Wissenschaft und Kunst an der Ruhr-Universität Bochum (RUB). Die Schenkung besteht aus insgesamt 47 Plastiken und Zeichnungen aus unterschiedlichen Epochen seines Schaffens.
Images:
Photos © Carsten Gliese
---
← Zur Startseite
Location
Bochum
Bochum, Ruhr-Universität, Westforum, Universitätsstraße 150
Size
2 parts, Gate: ca. 2.5 x 2.5 x 2 m; Double Angle: ca. 2 x 1.5 x 1.5 m