Volumina / Volumes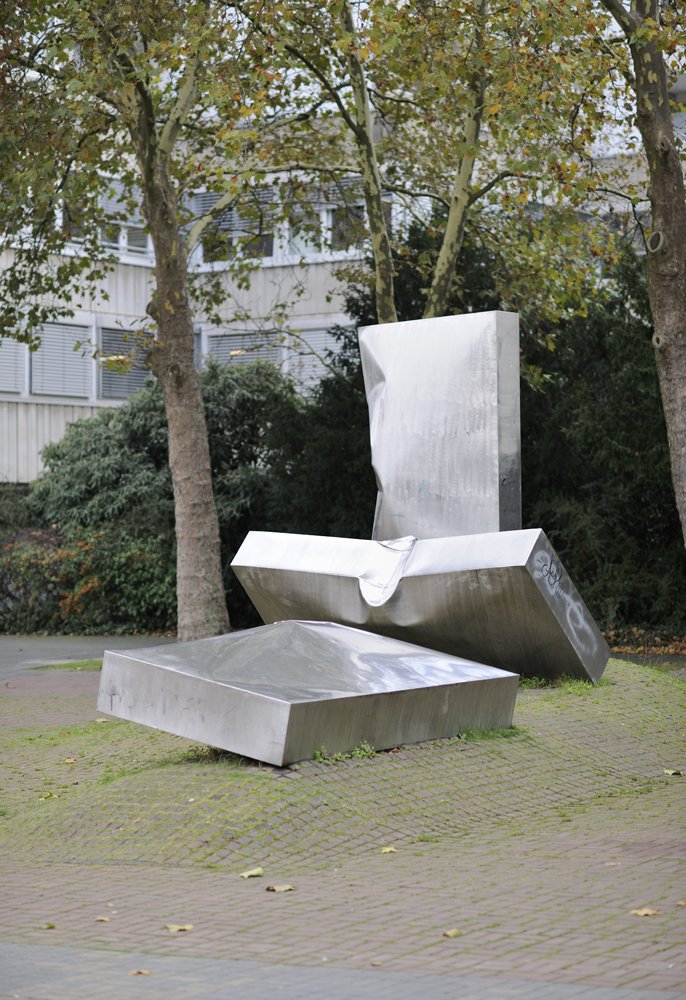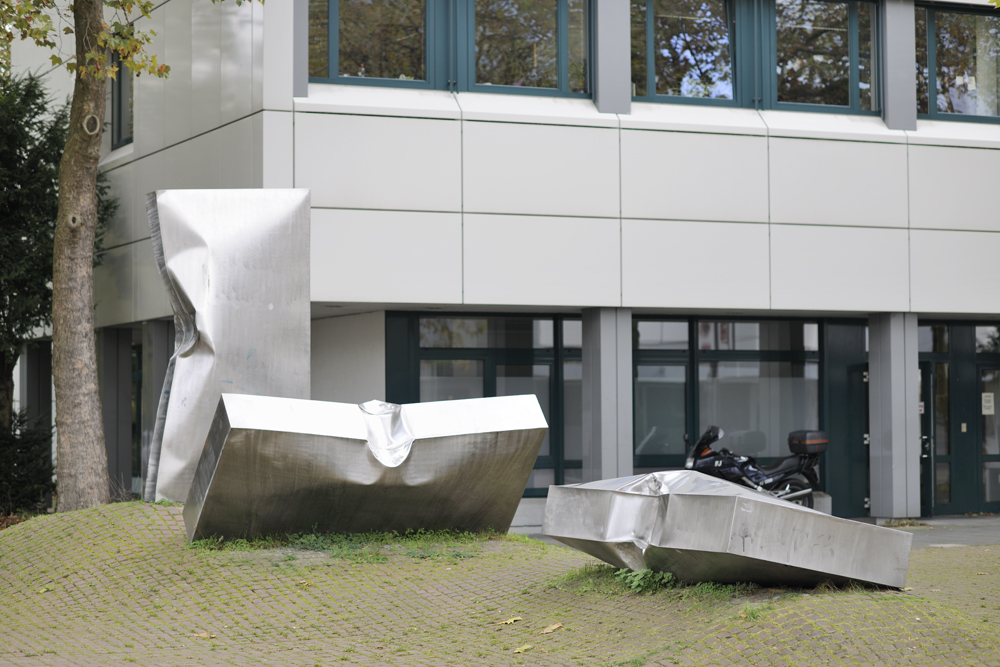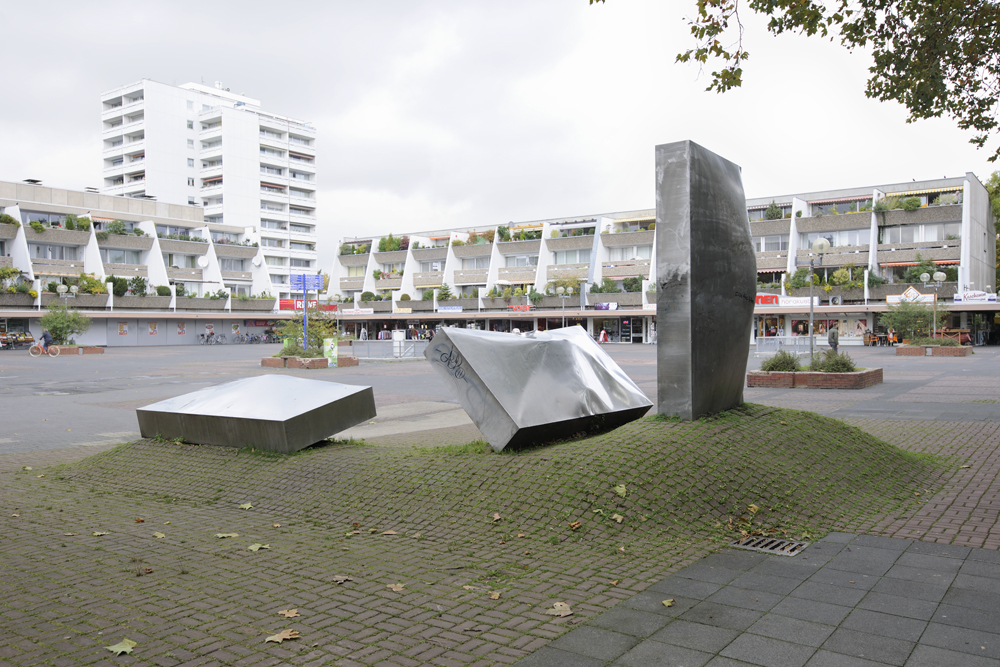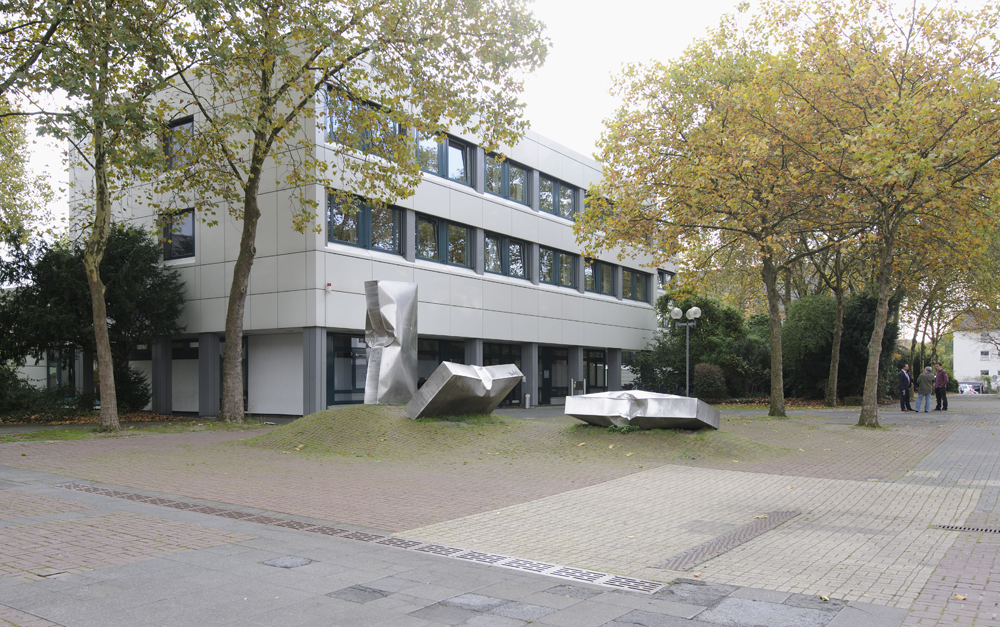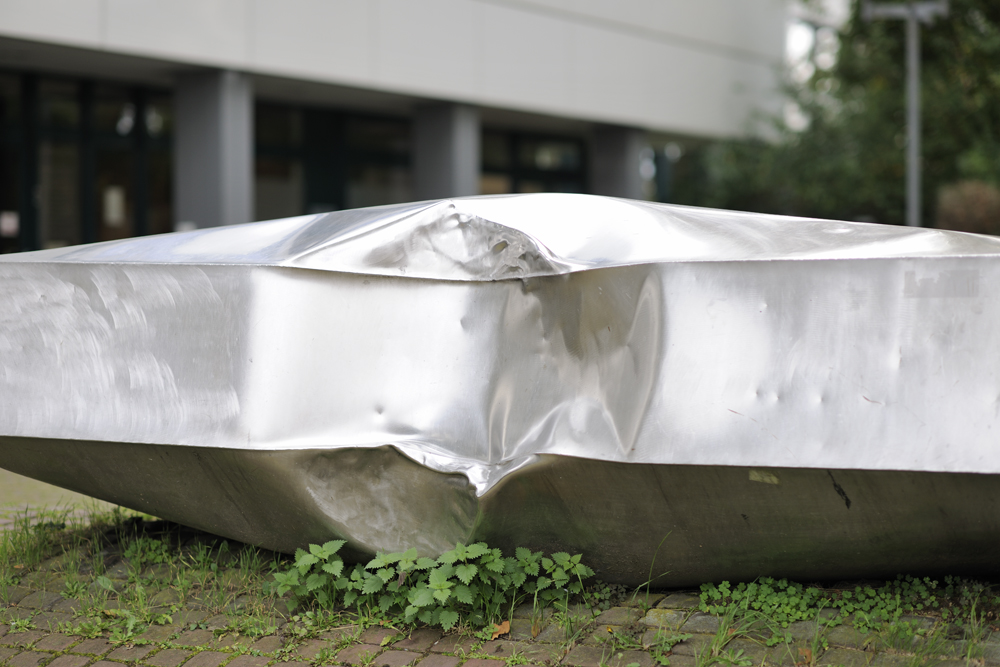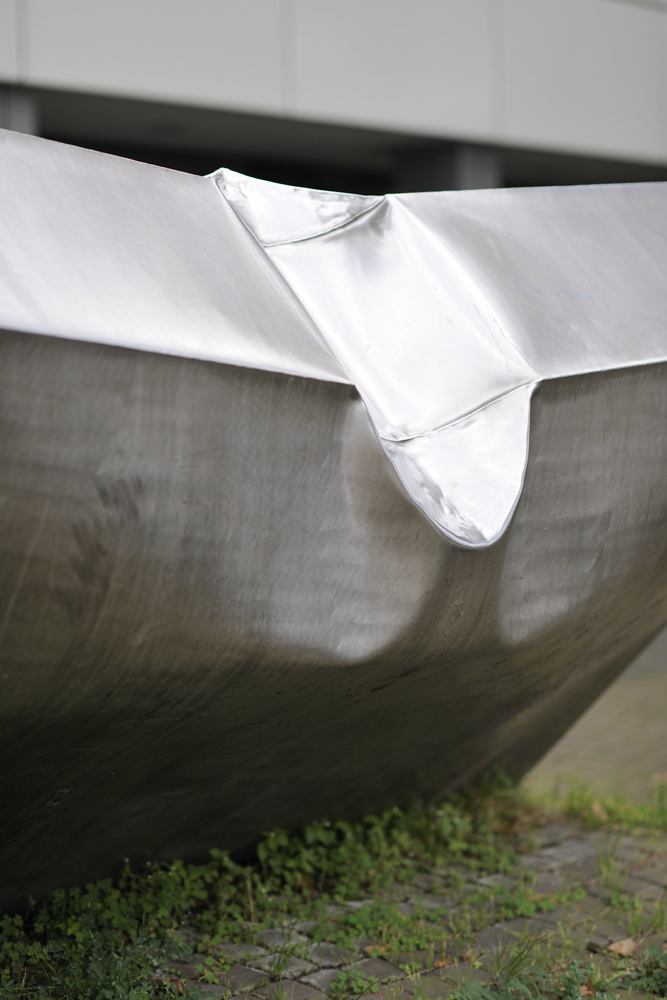 In 1973 – years before gaining recognition for his contribution to Documenta – Ansgar Nierhoff created the monumental stainless steel sculpture Volumina. It consists of three rectangular elements that are identical in their basic shape, but differ in their positioning and how they have been altered. One is standing upright on its narrow side, one is tilted, and the other is almost horizontal. They are staggered one behind the other, making them appear frozen in motion, comparable to falling dominoes.
The geometric character of the sculpture and the cold smoothness of the material, however, are broken up by the fact that the elements have bulges and even creases. Karlheinz Novald, author of the catalog for the first Nierhoff exhibition in the Wilhelm-Lehmbruck-Museum in 1975, saw this act of deformation as having the "signature of brutality, comparable with the order-loving method of beating a bourgeois sofa cushion in the middle."
The bulged surfaces are echoed the similarly bulging base, which is paved in place of a pedestal. The sculpture is located in the entrance area of the Brühl Amtsgericht on Neumann-Platz, which was redesigned and newly built in the early 1970s as a "new center" in the western part of the historic city center.
---
Ansgar Nierhoff
1941
geboren in Meschede; gestorben 2010 in Köln.
1960
Gesellenbrief als Maurer.
1964
Allgemeine Hochschulreife an der Frankenberger Edertalschule.
1964–1969
Kunststudium an der Kunstakademie Düsseldorf. Meisterschüler von Norbert Kricke. Zu seinen weiteren Lehrern gehörten Joseph Fassbender und der Kunsthistoriker Eduard Trier.
1977
Teilnahme an der documenta 6 in Kassel.
1983
Zeitweise Arbeit als Assistent von George Rickey in dessen New Yorker Atelier.
1986
Gastprofessor an der Gesamthochschule Kassel.
1988–2008
Professor an der Akademie für Bildende Künste der Johannes Gutenberg-Universität Mainz in Mainz.
Ansgar Nierhoff gilt in der Kunstgeschichte als Pionier der Edelstahlplastik.
Images:
Photos © Carsten Gliese
---
← Zur Startseite
Location
Brühl
Brühl, Balthasar-Neumann-Platz, in front of the Amtsgericht
Size
3 objects, 300 x 150 x 30 cm each